Sinds kort hebben we een nieuwe feature in CICERO Mobile: CICERO Mailbox. Deze vindt u in het menu onder DMS.
Via CICERO Mailbox opent u uw ingestelde inbox(en).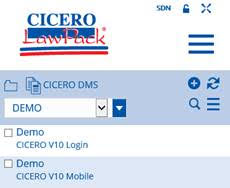 Met de knop linksboven opent u de mappenstructuur van uw inbox. Daaronder kunt u de gewenste mailbox selecteren, indien u er meerdere heeft.
U ziet uw ontvangen e-mails, die u kunt openen door erop te klikken.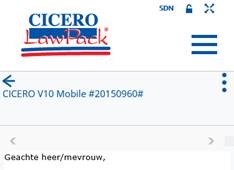 U kunt de geopende e-mail inboeken via de menu opties: BookMe, beantwoorden (Reply), iedereen antwoorden (Reply all), doorsturen (Forward) of u gaat direct naar de dossierdetails behorende bij deze e-mail.
Op de homepage van CICERO Mailbox kunt u met

de +knop een nieuwe e-mail aanmaken, of uw inbox opnieuw inladen met de refresh knop.
Met het vergrootglas zoekt u door uw inbox. U heeft nog enkele opties om de geselecteerde mail(s) te boeken, verwijderen, verplaatsen of markeren (zie onderstaande afbeelding).